You can add your logo to HelioScope reports and even replace the HelioScope logo with your own. This article walks through how to upload your logo and the settings associated with logos.
Add Your Logo to the Top of the Report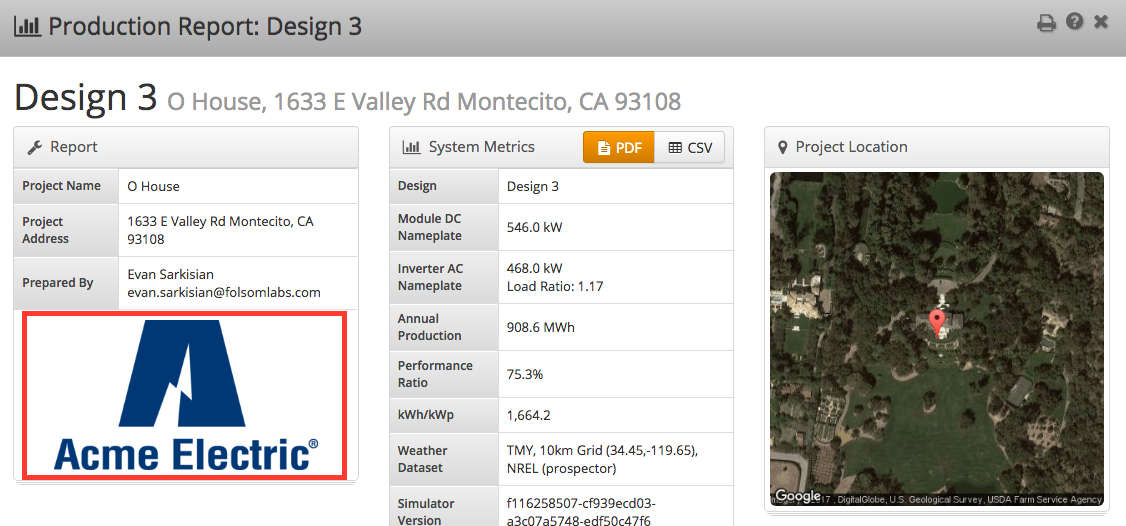 To add your logo to the top-left portion of the report:
Click your name in the top-right of the HelioScope page and click "My Account"
From the Update Account tab click the "Update Logo" button
Click the "Upload New Logo" button and select an image file you want to use. Note: We currently allow a maximum of 6 logos, with a max size of 10MB (.jpg, .jpeg, .png, .gif, .tif)
Close the page and complete a new design to get an updated version of your report.
Replace HelioScope's Branding
To remove all HelioScope logos from the report and replace it with your own, check the "Remove HelioScope branding from Report" checkbox:

Once this is checked the logo at the bottom of the report will use the logo you have selected in your account. Note: the new logo will appear in all new reports. To update the logo in older reports, please regenerate the report. You can regenerate by making a small change in the design, undoing it, and creating the report again, or by re-exporting the image from the report.